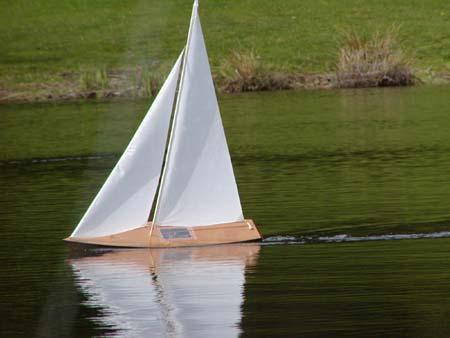 The T27 is a smaller, more portable remote controlled sailboat that is 27 inches long, 4 feet high (keel to masthead), and weighs just 2 pounds. This model sailboat is a charm to build, and it looks just as magnificent as its larger counterparts when out on the water. The T27 model boat is controlled via radio control system, just like our other RC boats, where one servo controls both sails simultaneously while the other servo steers the boat with its rudder.
This RC sailboat is the continuation of the enormously popular T37 design. The T27 has a very similar hull shape, but, being 10 inches shorter than the T37, it is more portable and easier to carry. The smaller size allows sailors to pack the model boat away and bring it along on vacations or trips. It employs a slightly different construction method than the T37, as the T27's hull plywood is thinner. Small size doesn't have to mean small performance! This model boat uses a weighted cast ballast fin keel so it physically cannot capsize while sailing!
The T27 Racing Sloop Kit comes with everything you will need to build the boat, including the marine epoxy and all of the RC gear (except for AA batteries) for sailing the boat. In fact, all you need is paint or varnish and AA batteries!  For assembly, we recommend ages 15 and up, or 12 and up with an adult. For sailing and racing, we suggest ages 8 through adult.
The T27 Racing Sloop Kit is quick to build (around 20 hours building time) and is a great introduction to using epoxy in boat building. No previous building experience is required. The model sailboat kit includes:
Hull and deck pieces pre-cut to an accuracy of 1/1000 of an inch from the highest grade of marine Okume plywood
High-quality brass and stainless-steel hardware
Spectra rigging lines
Wood mast and booms
¾ oz. Nylon Spinnaker cloth pre-sewn sails
Marine-grade epoxy, along with epoxy brushes and syringes
Full Radio Control gear, including the transmitter, receiver, battery box, and rudder and sail servos
Keel ballast casting
Excellent, detailed building instructions to guide you through the entire building process
…and more!
Sails can be made in any of the colors shown on the color swatch in the last picture. The standard main sail color is white, and the standard jib sail colors are white, dark blue, and red. Other colors listed are an additional $6.50 per sail. If you would like to choose a non-standard color, select "Other" from the drop-down menu and leave a comment in the "Add a note to your order" box during checkout. 
Please call 1-360-966-7245, or email fun@modelsailboat.com, if you have further questions about this beautiful boat. Finished boats come complete and ready to sail. 
Accessories for the T27: Follow the link to purchase each accessory and for more detailed information about each item.