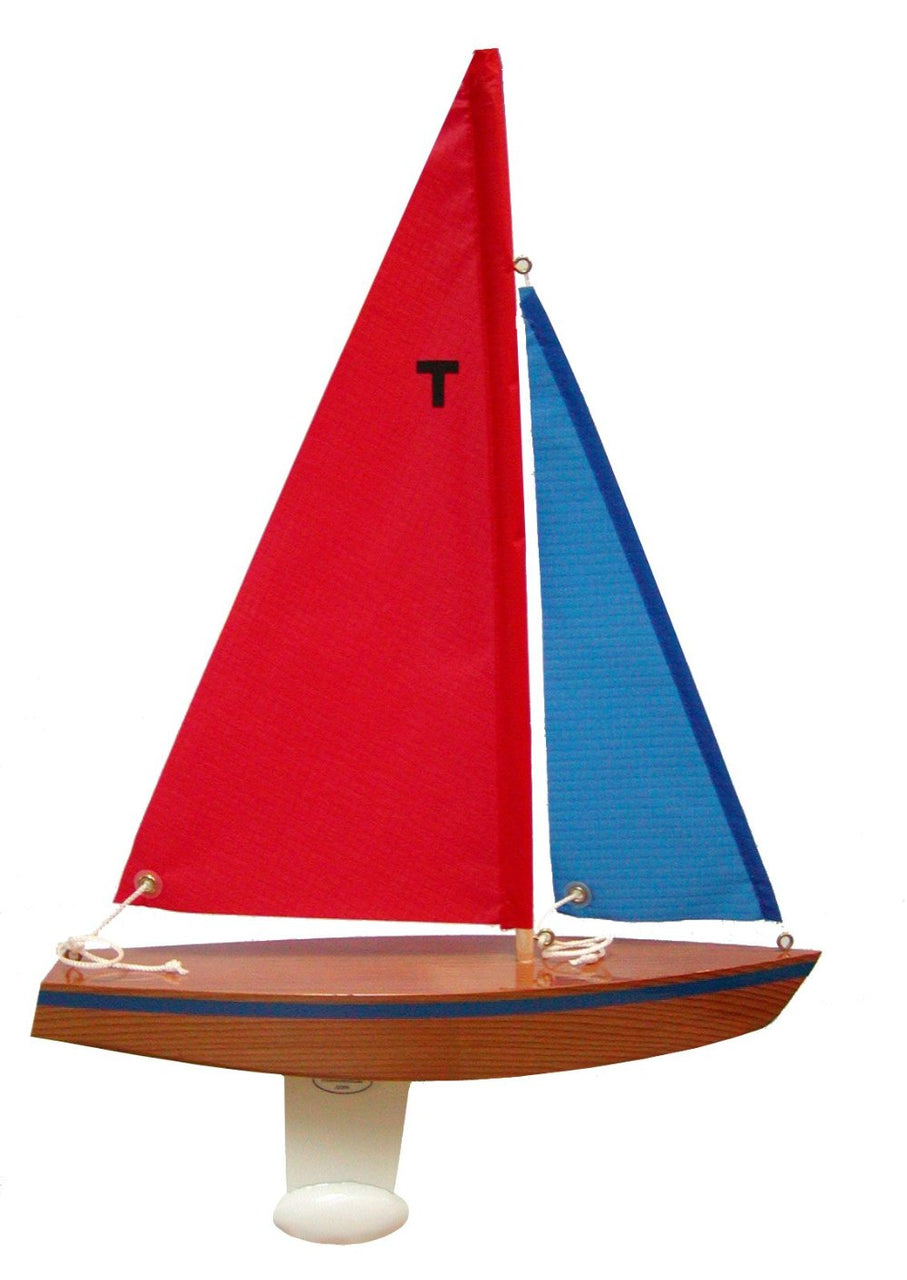 The Tippecanoe Boats T12 Cruiser is a 12 inch long toy sailboat built with a traditional western red cedar hull, stainless steel  keel plate, and zinc ballast casting. All Tippecanoe Toy Sailboats really sail! Though this sailboat is the smallest in the Tippecanoe Boats fleet, it is designed to sail straight and very fast. The Cruiser is terrific in any water from a hot tub or swimming pool to ponds and lakes. The weight in the keel makes the boat completely self-righting so it can never capsize. If you place this toy sailboat in the water upside down, it will flip right up and sail off!
Sailors of all ages will admire the craftsmanship of the T12 Cruiser. For adults, the T12 is great to relax with while watching it sail smoothly on the water. For children, the wooden sailboat is truly durable – the perfect boat to begin a life of sailing. The western red cedar hull and nylon spinnaker cloth sails are designed to last for years; all materials used will withstand the effects of chlorine and other pool chemicals as well as salt water from the beach. 
In a smaller lake or pond, you can race your T12 sailboat across from one side to the other. In a large lake or bay, use the Boat Reel to control your boat from the shore. Attach the line to the bow and watch your boat sail far out on the lake. With a tug on the line your boat tacks and sails back. On other days, let this model boat sail free and follow it in a canoe or kayak!
The T12 Cruiser is available as both a kit or a finished sailboat. Finished boats are beautifully varnished with high-quality marine varnish to last for years of fun, and come fully assembled and ready to sail. Kits come with all of the parts and instructions for a very easy, fun, 30-45 minute assembly. Everything except for paint or varnish is included. By building the kit yourself or with someone special, you will have a wonderful, creative experience that makes the boat meaningful forever.
For accessories for the T12 Cruiser Toy Sailboat, including stands and varnish, visit the T12 Cruiser Accessories page.