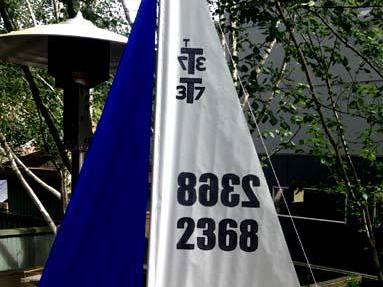 Prepare your T37 RC Sailboat for racing and display! Place two T37 Logos and two sets of your unique hull numbers on your T37 sail. This Stencil Kit includes everything you will need to apply the logos and numbers on your T37 model sailboat except for a paint pen. If you already own a T37, please enter your hull number in the "Special Instructions" box.
Kit includes:
2 T37 Logo Vinyl Stencils
Bottle of Sealant
1 Lg Glove
1 Piece of Microfiber Cloth
Sail Fabric
Extra Vinyl for Practice
Instructions
2 Unique hull number Vinyl Stencils
Vinyl cannot be directly applied to the sails of your RC Sailboat as it distorts them, so the kit includes vinyl stencils that you temporarily place on the sail and fill in with a black paint pen. More detailed instructions are included with the kit to guide you through the entire application process.