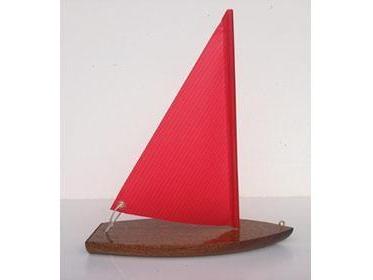 The T9 is a fun enlargement of the T5 Floater. It is 9 inches long and has a solid brass screw eye in the bow, making it perfect for attaching a line and pulling along. Young sailors who are not confident enough to have their bigger boats sailing far out into the lake on a line can be happy for hours pulling their T9 behind them on a string in ankle deep water.
Floaters are perfect for swimming pools, hot tubs, water features, bathtubs, and for display on mantles or shelves. The T9 has a flat bottom, meaning it does not have a keel, so it does not sail like the Toy Sailboats and Remote-Controlled boats do. Floaters are very fun to float and play with in the water, and their flat bottoms mean that they are perfect for decorating tables, shelves, mantles, and anywhere else for a fun nautical style or a fun children's toy.
The T10 Floater is just an inch larger than the T9 Toy Boat, but it has two sails instead of the one.