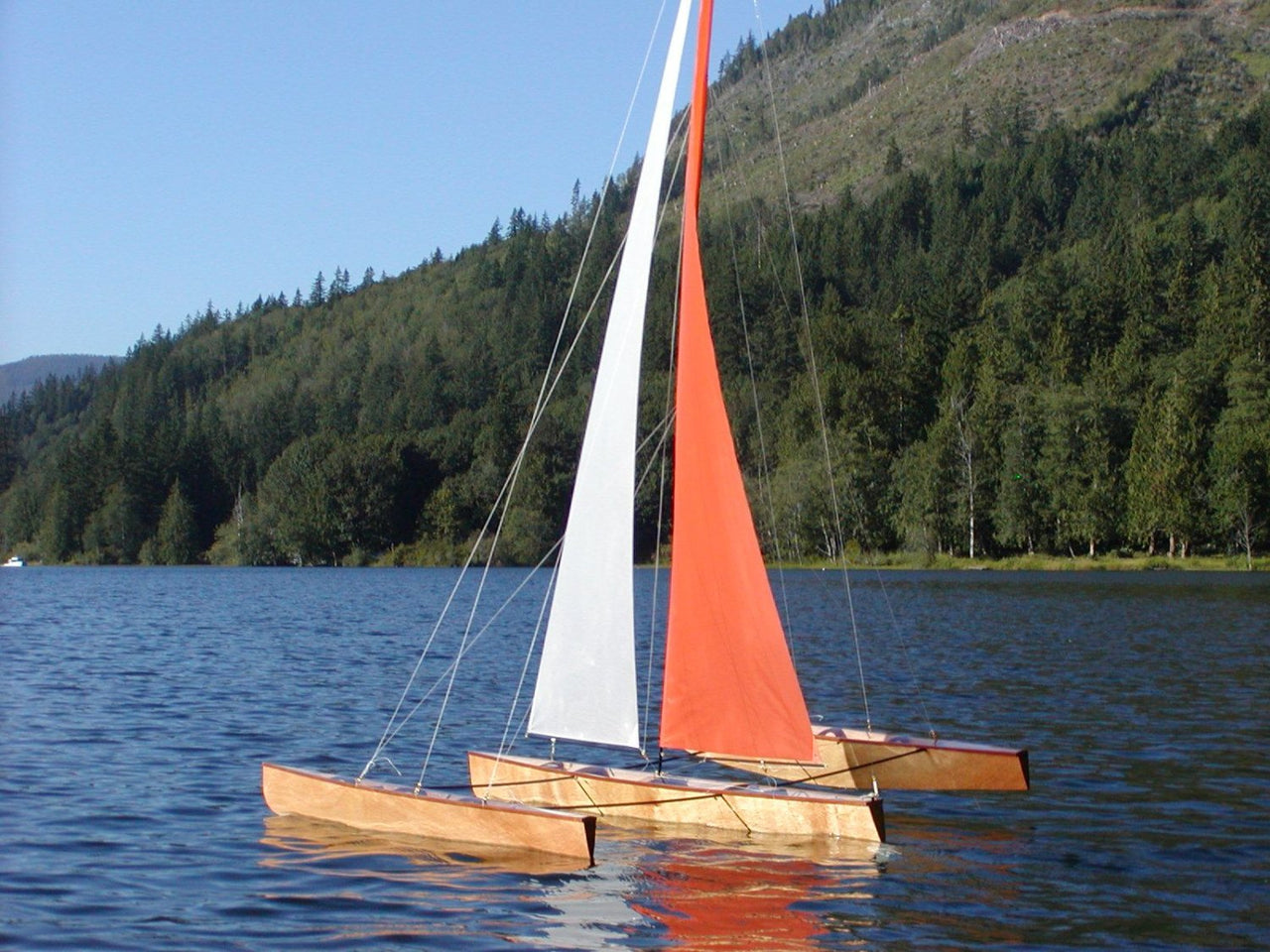 The Radio Controlled T50 Trimaran is the fastest Tippecanoe sailboat built to date. Its three knife-like hulls slice through the water at remarkable speeds, much faster than the standard mono-hull designs. Everything on board the Tri is designed for speed and light weight. The Trimaran's acceleration is spectacular; the boat can go from stopped to full speed in a matter of seconds. Once the sails fill with air, there is very little resistance from the hulls, so the boat picks up speed almost instantly. Every design innovation has been perfected to make the T50 Tri almost impossible to capsize. Even in sharp squalls with winds topping 20 miles per hour, this sailboat has not flipped.
The T50 Tri is made with a very light 1/16-inch plywood construction. These highly developed hulls are able to reach extremely fast speeds. The lightness of the plywood allows us to create compound curves in the hull shapes. This model utilizes three very light bulkheads to form the shape of the hulls and to keep weight to a minimum. The three hulls are securely connected with carbon fiber tubes, and rigging wires hold the two side hulls slightly higher than the center hull. The total weight of this boat, fully rigged and with batteries, is an amazing 4 pounds. This is unbelievably light considering the 50-inch hull length, 77-inch-tall mast, and three hulls!
The Tri includes two complete rigs with three different sail combinations to match any wind speed. The smallest possible combination leaves you with 550 square inches of sail area, while the maximum rig gives you 1260 square inches. Carbon fiber masts and crosspieces make this design ultra-light but very strong. The Trimaran completely disassembles for easy storage. The masts and sails come off and the hulls can be separated. This process is very quick and easy; a 12-year-old was able to disassemble the Tri in just over 3 minutes.
T50 Trimaran Technical Specifications:
Main hull length: 50 inches
Outrigger hull lengths: 43 inches
Main hull height: 6 inches (with keel: 14-1/2 inches)
Outrigger hull height: 5-1/2 inches
Overall width of Trimaran: 48 inches
Tallest mast height: 77 inches (from deck)
Main hull beam: 4-1/2 inches (at waterline: 2-1/8 inches)
Outrigger hull beam: 3-3/8 inches (at waterline: 3/4 inch)
Sail Winch: Hi-tec HS-785HB - 152 oz. in. torque
The T50 Trimaran Kit comes with everything you will need to build the boat, including the marine epoxy and all of the RC gear (except for batteries) for sailing the boat. In fact, all you need is paint or varnish and AA batteries. The kit includes:
Hull pieces pre-cut from high quality 1/16 inch plywood
High-quality brass and stainless-steel hardware
High-tech stainless-steel wire and Spectra rigging lines
Carbon fiber mast and booms
¾ oz. Nylon Spinnaker cloth pre-sewn sails
Marine-grade epoxy, along with epoxy brushes and syringes
Full Radio Control gear, including the transmitter, receiver, battery box, and rudder and sail servos (including the strong 785 drum winch servo)
Keel ballast casting
Excellent, detailed building instructions to guide you through the entire building process
…and more!
Please call 1-360-966-7245 or email fun@modelsailboat.com to inquire about the availability and pricing of finished boats. The finished boat comes fully completed and ready to sail.