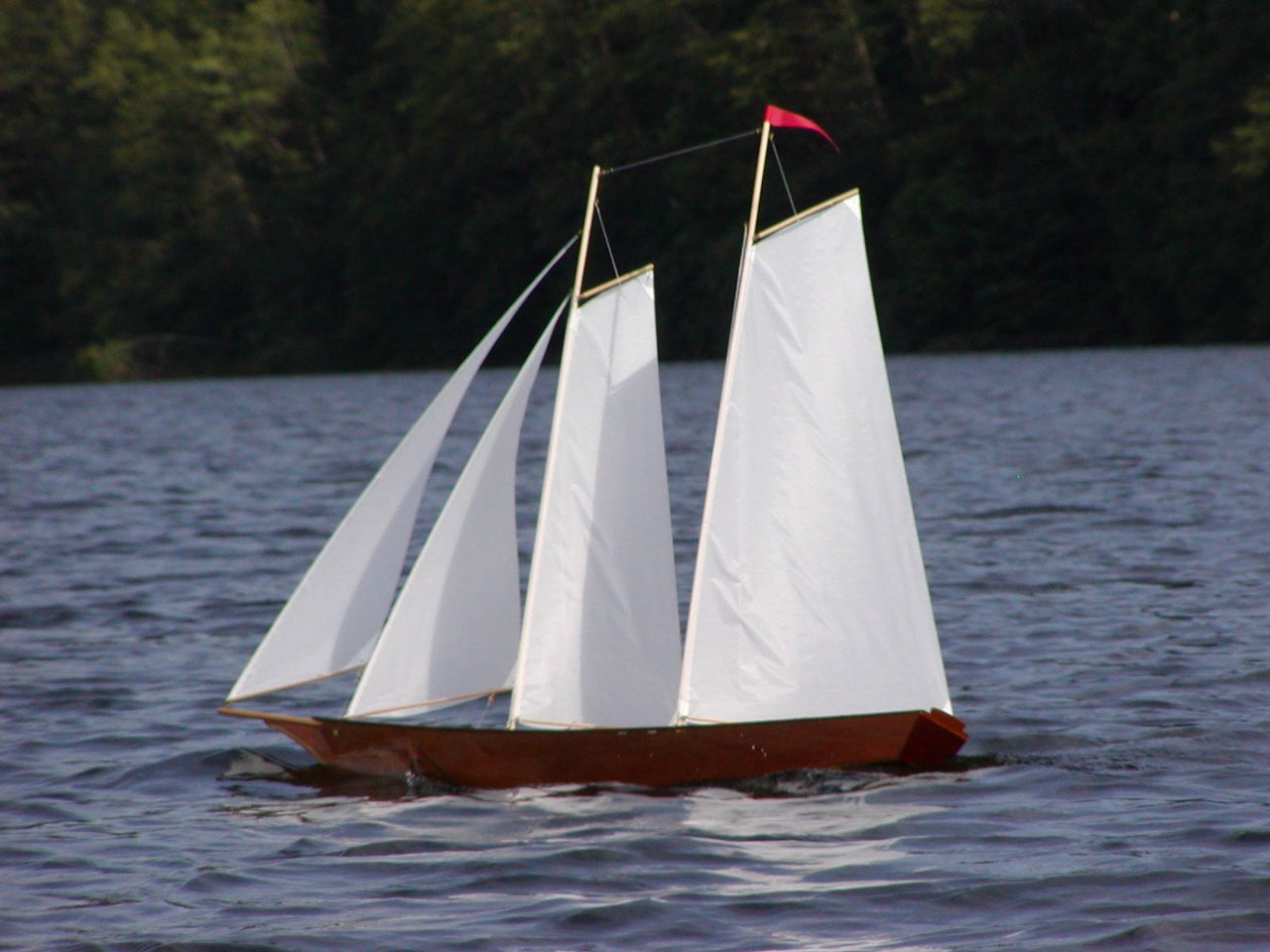 The Tippecanoe Boats T47 Radio Controlled Fairharbor Schooner is designed after the ships that sailed the oceans many years ago. Its two-masted design carries four sails, twice the number of any of our other boats. The massive amount of sail area is offset by a deep keel fin and lead ballast weight, which also make this boat impossible to capsize. In a strong wind she sails beautifully and stays perfectly balanced. The classic mahogany plywood hull with cedar gunnel rails complements the traditional look of this beautiful 47 inch long and 4-foot-tall sailing boat.
Rig the boat up (usually a 2 minute job) and turn your radio controller on! The RC servo allows all sails to be adjusted together with just the flick of a finger. The wood hull is constructed of pre-cut 1/8 inch mahogany plywood pieces that go together very easily with a marine epoxy that is not only incredibly strong, but also remarkably easy to use. This sailboat carries all of the same elegance as the other models; its beauty and functionality will last for years.
The T47 Kit comes with everything you will need to build the boat, including the marine epoxy and all of the RC gear (except for AA batteries) for sailing the boat. In fact, all you need is paint or varnish and AA batteries!  For assembly, we recommend ages 15 and up, or 12 and up with an adult. For sailing, we suggest ages 8 through adult.
The kit includes:
Hull and deck pieces pre-cut from 1/8 inch mahogany plywood
High-quality brass and stainless steel hardware
Spectra rigging lines
Wood masts and booms
¾ oz. Nylon Spinnaker cloth pre-sewn sails in either white or black. 
Marine-grade epoxy, along with epoxy brushes and syringes
Full Radio Control gear, including the transmitter, receiver, battery box, and rudder and sail servos
Keel ballast casting
Excellent, detailed building instructions to guide you through the entire building process
…and more!
The wood construction adds a beauty and authenticity to this RC Sailboat that is incomparable. Out on the water, the T47 RC Schooner tacks and sails with a grace and splendor that brings back the great age of sailing vessels.
Please call 1-360-966-7245 or email fun@modelsailboat.com to inquire about the availability and pricing of finished boats. The finished boat comes fully completed and ready to sail. 
T47 Accessories: Follow the link for more detailed information and to purchase each accessory. 
Varnish Kit                             Table Stand                           Veneer Deck Kit