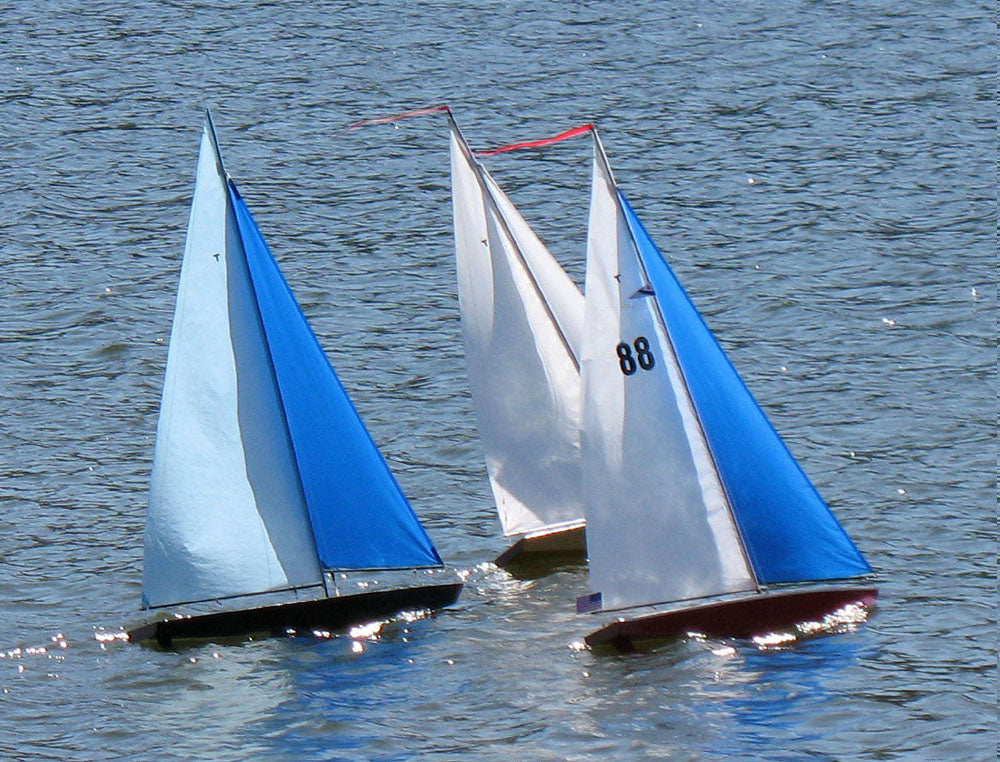 For accessories for the T37 RC Sailboat, including a varnish kit and stands, visit the T37 RC Sailboat Accessories page. 
A Remote Control Sailboat that is fast, powerful, affordable, and fun to build. The T37 RC Racing Sloop is 37 inches long, 5 feet high, and has a total weight of 4 pounds with the keel ballast casting weighing 2 of these pounds. There are more than 3000 T37 RC Sailboats sailing today, some in countries as far away as Thailand and New Zealand! It is a fully sanctioned one design class in the American Model Yachting Association (AMYA).The T37 balances perfectly and sails fast. She tacks effortlessly and will sail in winds gusting up to 20 mph. As with all of our model sailboats, the heavy ballast casting at the bottom of the keel makes it impossible to tip the sailboat over. All fittings on this RC sailboat are solid brass or high grade marine 316 stainless steel. The hull is very light and strong, built from 1/8 inch mahogany plywood. The sails are genuine nylon spinnaker cloth; this is the same material that is used on full size sailboat spinnakers. The mast can be removed in less than one minute for easy transport. 
For an even higher level of performance, speed, and maneuverability, the T37 Racing Sloop is also available in the Racing Upgrade version. Especially if you are considering racing your T37, the T37 Racing Upgrade Racing Sloop may be the best boat for you.
The T37 RC Sailboat Kits come with everything you will need to build the boat, including the marine epoxy and all of the RC gear (except for batteries) for sailing the boat. In fact, all you need is paint or varnish and AA batteries!  For assembly, we recommend ages 15 and up, or 12 and up with an adult. For sailing and racing, we suggest ages 8 through adult.
The T37 RC Sailboat kit is quick to build (around 20 hours building time) and is a great introduction to using epoxy in boat building. No previous building experience is required. Very complete building videos on YouTube detail every step in the building process for the T37. The kit includes:
Hull and deck pieces pre-cut to an accuracy of 1/1000 of an inch from the highest grade of marine Okume plywood
High-quality brass and stainless steel hardware
Spectra and monofilament rigging lines
Carbon fiber mast and

Hardwood booms (wooden mast available on request)

¾ oz. Nylon Spinnaker cloth pre-sewn sails
Marine-grade epoxy, along with epoxy brushes and syringes
Full Radio Control gear, including the transmitter, receiver, battery box, and rudder and sail servos
Keel ballast casting
Excellent, detailed building instructions to guide you through the entire building process
…and more!
Each boat has a unique personality reflecting the builder's preference for paint styles and colors. The T37 is one of only a few Remote Control sailboats built out of wood, and one of the most elegant RC sailboat kits available. For most sailors, the T37 is an ideal model sailboat; powerful, seaworthy, fast, and just the right size. This RC sailboat will give pleasure for generations of sailors.
Sails can be made in any of the colors shown on the color swatch in the last picture. The standard main sail colors are white and fluorescent yellow, and the standard jib sail colors are white, dark blue, red, and fluorescent orange. Other colors listed are an additional $6.50 per sail. If you would like to choose a non-standard color, select "Other" from the drop-down menu and leave a comment in the "Add a note to your order" box during checkout. 
For accessories for the T37 RC Sailboat, including a varnish kit and stands, visit the T37 RC Sailboat Accessories page. 
Please call 1-360-966-7245 or email fun@modelsailboat.com to inquire about the availability and pricing of finished boats. The finished boat comes fully completed and ready to sail. Happy Sailing!